You Are Not Alone With Past Life Therapy Center®
Past life regression therapy
You Are Not Alone With Past Life Therapy Center
PLTC Founder: Dr. Thomas Paul, DCH
If you're new to past life regression therapy, you are not alone. Many of my subscribers are unfamiliar with the Past Life Therapy Center® De-Hypnosis Method, or they've experienced Past Life Therapy and want to broaden their knowledge. Others may enjoy reading about a PLTC client's past life journey while learning about their remarkable, life-changing results.

Wherever you may be on the Past Life Therapy interest spectrum, I encourage you to be in touch. Past Life Therapy Center® is a labor of love and life passion for me. I'm easy to talk with, so please email or call me anytime you have a question, comment, or simply want to share information about your life and this exciting, evolutionary field.

Unresolved victimization of the unconscious mind often results in an unpleasant life, death, and future lifetimes of repetitive patterns that involve suffering through survival mode. If it seems daunting or overwhelming for you to pursue Past Life Therapy and its unlimited possibilities, you are not alone; many PLTC clients initially feel this way. For example, you may feel uneasy about transitioning out of an identity that may be characterized as victim or victimizer, which can be an uncomfortable, yet strangely comfortable role/position; one that can be repeated for many lifetimes of karmic-victimization.

You may have doubts about PLTC's method working for you, especially if you've met with other therapists and didn't achieve significant results. Most therapy practices utilize modalities that don't allow confusion to surface from within the unconscious mind, including prenatal-births, surgeries, traumas, and past lives. Consequently, many therapists untrained in PLTC's methods ''go in circles'' with their frustrated clients, instead of rooting emotional/physical symptoms at their corresponding past life predicaments. PLTC therapists, such as myself (trained primarily by retired founder of Past Life Therapy, Dr. Morris Netherton), are highly skilled at enabling you to resolve your present life issues and ailments. This is accomplished via the unconscious mind during a focused-state of de-hypnosis for lasting, present life changes.

Past Life Therapy doesn't create additional problems, rather it surfaces confusion already present in the mind then allows you to concentrate on its source with a process for permanent resolution. After resolving the dark moments of your history, The Past Life Therapy Center® De-Hypnosis Method will uplift and motivate you to thrive, not just survive. And when your life is no longer motivated by unresolved, past-life-realities, you can attract present life experiences that will reinforce well-being.

There are no accidents or coincidences, including your interaction with Past Life Therapy Center® as a client or subscriber. Perhaps the reason for our connection is to enable you to expand your consciousness, commit to continual evolution, or to help others with greater understanding and purpose. PLTC's effective process of completing the negative elements of your soul's unique journey can be a fascinating and rewarding experience. The sooner you resolve your past, the sooner you can move forward in a healthy and productive way.

Learn more about the world's most empowering therapy to heal your mind-body by reading our FAQ page and recommended books (featured below), viewing previous newsletters, or scheduling online for a free consultation call. I'm here to support you to the best of my abilities on your journey of healing and awareness whether it's in my West Hollywood, CA main office, worldwide visit to your home, or distance phone session.

Again, please communicate often with any questions before and during treatment, or comment about our articles throughout the year. If you're new to PLTC or PastLifeTherapyCenter.com, please subscribe. You are not alone with Past Life Therapy Center®.
Best wishes,

Thomas Paul, DCH
Founder of PLTC | Past Life Therapy Center®
PastLifeTherapyCenter.com
---
Gift Certificates: Gift of Wellness. Visit: https://www.pastliferegression.com/past-life-regression-therapy-books-gifts/
Books: PLTC Bookstore contains various books, most notably Past Lives Therapy by the founder of Past Life Therapy, now retired Dr. Morris Netherton, whose extremely effective methods are continued by Dr.Thomas Paul, Founder of Past Life Therapy Center®.

Featured Past Life Therapy FAQ

What is Past Life Therapy vs. Past Life Regression? What is Hypnosis vs. De-Hypnosis?
Past Life Therapy, or certain types of past life regression and hypnotherapy, requires willing participation, but a belief in reincarnation, karma, or spirituality isn't necessary for its effectiveness. The therapy process is a journey that may seem imaginative at times; however, the unconscious truth will prevail with the Past Life Therapy Center® De-Hypnosis Method. This is especially the case when giving one's body a voice and by speaking any initial thoughts that come to one's mind during session. In particular, unconscious states from prenatal, past lives, surgeries, and previous states of shock or trauma are explored and released. As a result, any debilitating aspects of a person's past will surface for emotional, physical, and spiritual resolution.
PLTC utilizes a focused state of de-hypnosis, unlike hypnosis that often entails suggestive methods, which rarely works long-term, if at all. De-hypnosis enables a person to make the unconscious become conscious for deeper resolution of unresolved, emotional issues that can reinforce health, career, relationship, or behavioral challenges. Regression into past lives isn't as complicated as it may seem. It's the method a past life therapist implements to resolve issues when regressed into past experiences that achieves therapeutic, lasting results and separates "past life regression" from clinical past life therapy.

Learn more at PLTC's Most Frequently Asked Questions, PLTC Bookstore, and by reading Past Life Therapy Case Studies, Past Life Regression Articles I, or Past Life Regression Articles II.

How many therapy sessions are necessary to achieve results?
Learn more at PLTC FAQ-19 or call Past Life Therapy Center® Founder, Dr. Thomas Paul to discuss a therapy plan.

Have you missed some of our PLTC Newsletters from 2012?
Other Popular Newsletter Articles and Case Studies
PLTC University: Are you interested in PLTC training and certification?
The Past Life Therapy Center® De-Hypnosis Method is only practiced at PLTC. There are no additional therapists trained in PLTC's unique method. Any websites or instructors that claim to teach, practice, or sell tapes/books using our method are likely fraudulent (please report any findings). PLTC's therapy method is a highly effective process unlike any other kind of Past Life Therapy or past life regression. There may be other therapists practicing Past Life Therapy, but none are officially endorsed by PLTC. Because PLT training is a future objective, please subscribe or update your existing profile and select ''PLTC University" to be notified when PLTC is accepting applications for past life therapy certification.

Furthermore, you should begin your therapy interest and expansion of knowledge by scheduling an appointment. You cannot adequately conduct Past Life Therapy and De-Hypnosis sessions without further resolving your own unconscious issues. Also, Past Life Therapy is an experiential process and your own therapy is necessary for master level certification and demonstration of your skills. In addition to therapy sessions, I suggest reading books by Dr. Morris Netherton offered at our PLTC Bookstore and studying PLTC's previously published newsletters.

PLTC will be searching for intelligent and passionate individuals to continue its methods and perhaps to partner with our organization.

PLTC's Mission/Goal

Past Life Therapy Center® is committed to enabling you to resolve virtually any issue via the unconscious mind. This is readily accomplished by resolving present and past-life karma, such as negative influences from prenatal-birth, childhood, surgery, states of trauma/shock, etc.

PLTC specializes in emotional resolution of past events in order to achieve mind-body alignment; this occurs when a resolved soul/mind aligns with the body for sustainable wellness. As a result, you can consciously flourish and feel worthy of manifesting a purposeful, enjoyable, healthier life without chronic sadness, anxiety, fear and pain.

In compliance with federal law, PLTC doesn't claim to diagnose, treat, prevent or cure diseases. PLTC's alternative/healing arts therapy encourages spiritual completion of current problems, including enabling clients to overcome health, personal and career challenges.

If you have questions about the PLTC process or therapy session options, you can schedule an exact time to call Dr. Thomas Paul. A belief in reincarnation or spirituality isn't necessary for PLTC's process to effectively enable a healthy mind-body.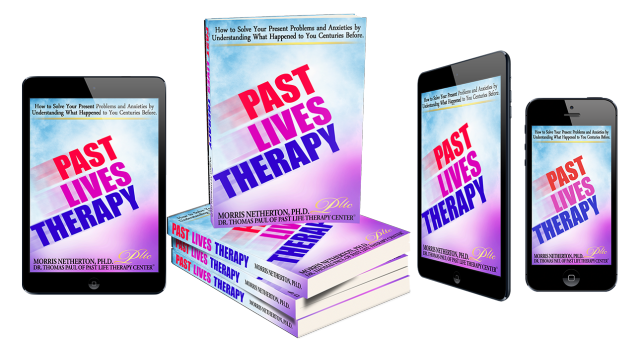 Past Lives Therapy (Special Edition E-Book)
(For all e-readers/smartphones with Amazon Kindle app
PastLifeTherapyCenter.com
PastLifeRegression.com

Resolve the past. Move forward.®


Copyright © 2004-2023 Dr. Thomas Paul: Past Life Therapy Center®.
All rights reserved.
---
Share You Are Not Alone: Facebook, Email, etc.